Come closer to Covelo through its parishes and discover everything they have to offer.
A Lamosa -
See photos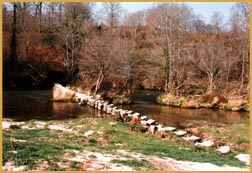 The highest point is the peak of Montouto at 953 metres, close to and higher than the famous peak of A Paradanta (945 m).
A Lamosa was formerly part of the parish of Santiago de Covelo. The River Xabriña has its source near Montouto, in Taberna da Canda, and contains good, tasty trout. On its banks we can find lots of mills. The waters of this river join the River Tea at the town of Mondariz-Balneario.
Outstanding features are the soul saviour in the parish church where the Procession of Salvation is held. There is also a polychrome stone cross on which some of the original colour can still be seen.
Due to its height above sea level, its good communications and the character of the people this is a lovely place to spend the summer. In autumn highly appreciated types of mushrooms can be found in the pine forests.
Its towns and places of interest are:
A Borbella, O Cabo, Chan de Prado, A Codeseira, A Congostra, Corzós, O Couto de Rixo, Currelos, Custeu, Paredes, O Regueiro.
.