Come closer to Covelo through its parishes and discover everything they have to offer.
Fofe -
See photos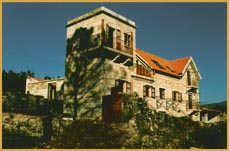 On visiting the parish the mediaeval bridge and the road that crosses it should not be missed. From the rural tourism house "Rectoral de Fofe" we can contemplate the oak woods in the Tea Valley, admire the star filled sky, the rising of the moon over Faro de Avion or start the "Dos Carranos Sawmill Route" which gives us a lovely walk through the zone.
Its towns and places of interest are:
A Aldea de Baixo, A Aldea de Riba, O Carballal, As Cavadiñas, O Chafallón.