Come closer to Covelo through its parishes and discover everything they have to offer.
Barcia de Mera -
See photos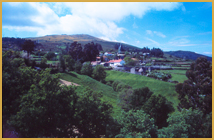 This is one of the most populated parishes in the municipality. The River Alen separates it from the neighbouring Mandariz, apart from the towns of Alen and Caxil, which are part of the parish despite being on the other side of the river. Within the parish there remains the tradition that there was an ancient monastery on the site of what was probably the early church or parish chapel until it was moved to its current site, leaving only a chapel built by the Spanish Inquisition and an oak forest; this is the place of San Xoan do Mosteiro. On the same spot we find a well-conserved mediaeval bridge and the remains of an ancient road that disappears into the undergrowth of the forest where we can find the "Fonte Santa" (Holy Spring) whose waters have been long sought and remain at the same temperature throughout the year. Its wines, along with those of the neighbouring parish of Castelans, stand out for their fruity flavour with the typical characteristics of wines of the region. It's a place that inspires rest and meditation as well as having leisure facilities: a community centre, a football pitch in Redondo, a sports arena and a fluvial beach: Towns: Alén, Caxil, Mera, Oleiros, Redondo, San Amaro and Vilanova. As places of interest we find the Abbey Complex of San Martiño de Barciademera, the church and the Rectory House, which is constructed in the baroque style and its outstanding feature is the beautiful façade of the
Rectory House
full of details with pre-Columbian influence. Its chimney, its interior patio, the gargoyles, its imposing fireplace and the views over the fertile valley make this building one of the most important architectural complexes in Galicia. The church has recently been partially restored and all that is left to do is the necessary restoration of Pazo Abbey. Its towns and places of interest are:
Alén, A Carballeira, Carredás, Caxil, O Ceo, A Corcoveira, Espiñeiro, Mera, Os Oleiros, O Pazo, A Peleda, As Pereiras, Redondo, O San Amaro, Os Seixedos, O Ucedo, Vilanova.
.