Come closer to Covelo through its parishes and discover everything they have to offer.
Casteláns -
See photos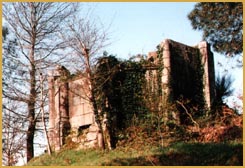 This parish is situated on the limits of Concello de Covelo with Mondariz; it covers 7.5 km2 and 416 inhabitants. It is one of the parishes with the most beautiful valleys in the municipality. It contains remains of a Romanic church from the end of the 12 th Century, which was a monastery, probably for Benedictine monks. All that remains of this construction is the apse, spherical on ribs of small columns. In the openings of the apse we can see small semi-circular archivolt windows supported by columns both inside and outside. It also has brackets, and the interior arches of some windows are horseshoe shaped of Mozarabic influence. These remains can be seen in Mondariz spa where they were moved at the beginning of the last century. In days gone by Castelans was probably a place where lawmakers or scribes lived. Some heraldic crests of great interest are still conserved in various large houses of the parish. The land is fertile due to their lower altitude and fruity, full-flavoured wine is produced. Lamb and stews are also typical delicacies of the region. Sulphurous water, famed throughout the county, flows from a spring in the neighbourhood of Lourido, and can cure numerous illnesses. Its towns and places of interest are:
A Arroteña, As Barreiriñas, Campelo, A Cancela Grande, A Carrexa, As Casanianas, casteláns, O Ceo, A Costa, O Coto, A Doadiña, A Fonte, Lourido, A Pena, As Pereiras, O Pío, A Sequeira, Sobreira
.