Come closer to Covelo through its parishes and discover everything they have to offer.
Covelo -
See photos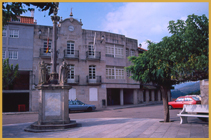 This is the name of the capital of the municipality. It contains the main services offered to the population: the Town Hall, the Civil Guard Headquarters, the post office, the courts, a medical centre, a pharmacy, a primary school (for children up to 13), a municipal swimming pool, a football pitch, a tennis court, two sports zones, a sports hall, a library with free broad band internet access, a nursery school, a theatre and other services.
Amongst place to visit are the Stone cross of Santísimo Cristo de los Afligidos, the mountain of Castro from where there is a lovely view of the town and Hermida la Casa Museo Casa da Cruz.
Its towns and places of interest are:
Carballeda, O Carrizó, O Castro, O Costal, Coveliño, A Ermida, Fontán, O Mangón, Pedregal, Os Piñeiros, Santiago de Covelo.