The municipality of Covelo is a compendium of living culture and traditions. The first procession arrives with the coming of the good weather.
25 July
the patron saint's day fiesta and the festival of the steak
are celebrated. This gastronomic festival dates back to the mid-eighties and the fact that it coincides with the feast day of the patron saint, James, is due to the fact that he is also the patron saint of the municipality. The municipality of Covelo has a long cattle raising tradition and more than 2,000 head of Rubia Gallega beef cattle graze in its pastures. As in all the rural municipalities, pigs are raised in a great many households and as it is a mountainous region the ham acquires fine quality when it is cured. The gastronomic festival is held in the Campo da Feira, which as its name suggests was the place where all the municipality's cattle fairs were held. The site is full of oak trees interspersed with gentle grass terraces with the capacity to hold 4,000 people.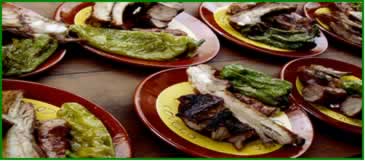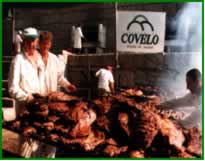 Festival of the shoulder of pork with turnip tops
celebrated 2nd sunday of May in Baldomar where the delicious shoulder of pork with turnip tops of the zone of Baldomar. This is an example of the authentic Galician food that is handmade and very well cared for.
Festival of the traditional chorizo
in Paraños the first weekend of June. Gastronomic festival of tasting of this product served with some of the wines of the zone. There is the possibility of eating several menus from the most complete menu to a simple sandwich.

In the festival, there are other activities and music.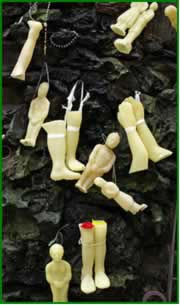 In the middle of spring at the height of the explosion of nature in the region, the
As Pascuillas de A Franqueira
procession is held, in which every parish in Covelo and the entire regions of Condado and Paradanta take part.
Procession
A Xestosa
takes place in San Salvador de Prado on 2nd sunday of May and the last Sunday of august. According to the tradition people who take part in this procession that dip their hands in the water of a pre-Christian tomb are cured. This belief is based on the popular tradition that the tomb belonged to a saint and the water here proceeds from the source of the river that supplies the entire region, the Tea River.
The Virgin of Libramento
is one of the most massive processions in Covelo, held in A Lamosa the 2nd Sunday of September. There are vows, people on their knees, waxy arms and legs and a myriad of all kinds of stalls, selling everything from the famous "pulpo á feira" (octopus) to Orense bread amongst many other products.

Other popular fiestas are the procession of the
Guide of Maceira
15th August and
the Guide of Piñero
(first Sunday in September), which inspire great religious enthusiasm.

Other festivals are:
| | | |
| --- | --- | --- |
| NOME | LUGAR | DATA |
| Santo Estevo | Casteláns | 28 e 29 March |
| The Virgin Sta. Cruz | Baldomar (Sta Mariña) | 3 May |
| The Virgin Salud | Santa Mariña | First Sunday July |
| The Virgin Carmen | Paraños | Third Sunday July |
| The Virgin Carmen | A Graña | Third Sunday July |
| Saint Santiago | Covelo | 25 Jully |
| Saint Bernabé | A Graña | Last Sunday July |
| The Virgin Dolores | Barciademera | First Sunday August |
| The Virgin Rosario | Godóns | First Sunday August |
| The Virgin Fátima | Redondo (Barciademera) | 13 August |
| The Virgin of Dolores | Covelo | First sunday Setember |
| The Virgin Exclavitud | Lourido | Third Sunday October |
| The Virgin Rosario | Prado de Canda | First Sunday October |